Residential Window Cleaning
Whether it's spring cleaning, getting ready for the holidays, or just regular maintenance to protect your investment, our residential team will handle your home with care and give it a shine that will make you the pride of the neighborhood. Our approach to residential is very simple: Safely deliver the highest quality service in the least disruptive manner to the household as possible.
Having your windows professionally cleaned at regular intervals is also an important part of protecting your investment. Neglecting your windows for extended periods of time allows environmental pollutants as well as chemicals that might be leaching from the building itself to build up on the glass. These contaminants, if allowed to remain on the windows, will eventually chemically bond with the glass causing extensive damage that is both labor-intensive (see glass restoration) and expensive to repair.
Window Cleaning
A Standard Cleaning is the process of washing all glass surfaces with a brush/scrubber with a soap solution followed by its removal by a squeegee. This process is not expected to remove paint, sealants or glass stain damage. 
Screen Cleaning
Screen cleaning is very important.  Dirty screens will make clean window look dirty and the next hard rain will leave dirt spots on window.  Not only is screen cleaning important for appearance but also for your health.  Dirty screens hold dust and allergens that can effect your respiratory system. We recommend to clean your screens at least 2-3 times a year.
Chandeliers
While we're cleaning your windows , why not have us restore the sparkle to your chandeliers and other light fixtures? We're familiar with most types & styles of light fixture. No chemicals that may harm the delicate finish are used. We clean the bright work, the bulbs, the flat glass panels, and each individual crystal.  
Ceiling Fans
We clean all types of ceiling fans.
Glass Stain Removal
The lack of a regular maintenance program allows minerals and chemicals to etch or build up on the glass surface and in some cases cause permanent damage. This condition can be caused by a number of reasons including but not limited to, sprinkler systems over spray, water run off from building design, condensation and improper chemical application from prior attempts to remove the stains.The cost of removal can be substantial, although it is much less than the cost of replacement. Many times it is not possible to discover the full extent of damage or determine the price of removal until a Standard Cleaning is performed and viewed by the customer and Best Windows Inc. employee.
Window Styles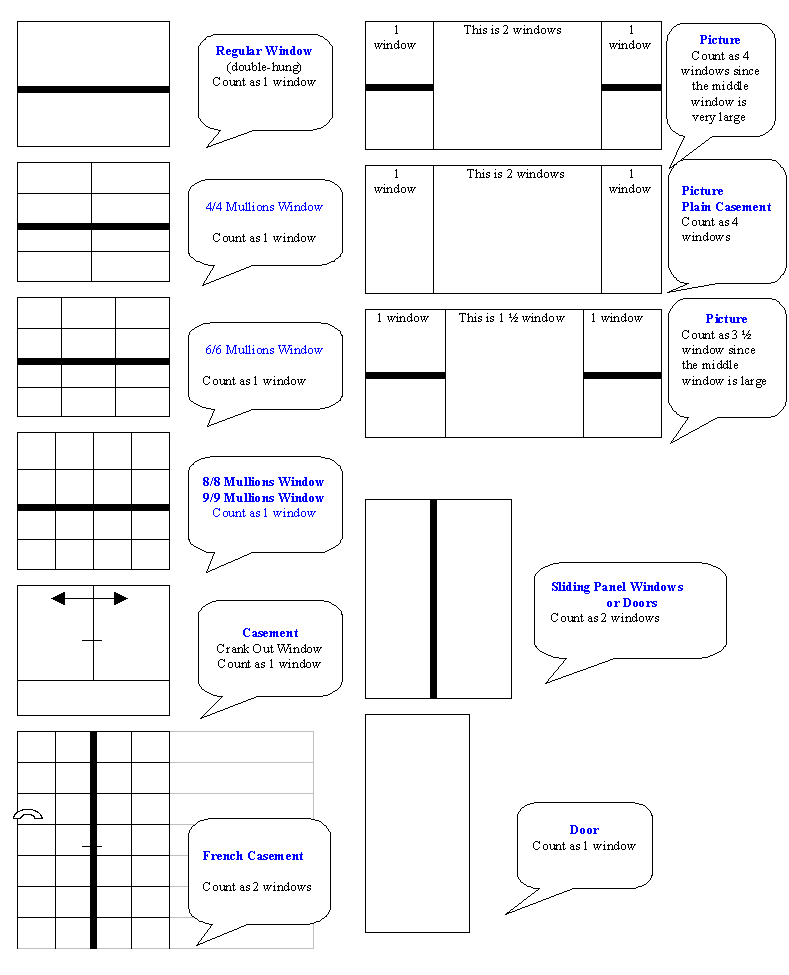 AIR CONDITIONERS POLICY
Many apartments have air conditioners installed in a window. Proper removal and installation of air conditioning units is crucial for window cleaning. Washing windows with air conditioning units can be challenging and requires special skills and experience. If your air conditioning unit was not professionally installed, we may need to remove the unit to properly wash your windows. In this case, our specialists will have to remove the unit prior to washing and then reinstall once completed If a unit is permanently installed, we simply clean the inside and outside of the window surfaces that are exposed.
Some A/C units are removable, in which case we offer three options:
We can leave the unit in and clean exposed surfaces only, as described above, at no additional charge.
We can remove the unit from the window, place it on a mat or towel that you provide, and leave it out.
After cleaning the window, we can place the unit into its original position.
There is an extra fee for handling an air conditioner.
We reserve the right not to remove a unit if we feel it is larger or more involved than we can handle safely.