Commercial
Best Windows Inc. is committed to helping you look your best. Whether it's your home or business, your windows are one of the first things a visitor notices. But the benefits for the occupants go beyond simple aesthetics. Increasing the penetration of natural light promotes both a healthier and more inviting environment for employees and visitors. When considering the image you are projecting, don't overlook your windows.
Clean windows provide a more attractive appearance
for potential clients or customers, and create a more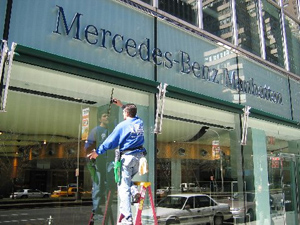 pleasant environment for employees. Most business owners are aware how much the elements, including weather, insects, birds, traffic, and even pedestrians can affect the appearance of their windows. In addition, dust and smoke can rapidly build up on the inside of the glass.
Call Best Windows Inc. today to handle your commercial window cleaning needs. We specialize in interior and exterior washing on buildings, storefronts, and retail locations.